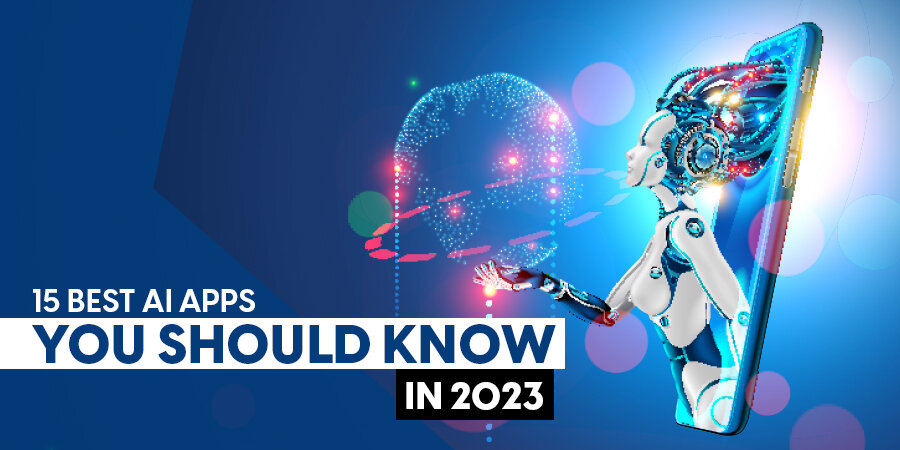 Author: Hania Saleem,

May 08, 2023

Blog
The future is digital, the storm in evolutionary technology is all about it.
Every touch-point is a possible meaningful digital interaction, and the revolution of the best AI apps makes it a reality.
Users usually tend to give up working out the app after a few seconds of instability. Hence, you must acquire AI in iOS app development and Android app development wisely.
The immense focus lies on delivering speed, innovation, and digitalization while adapting to the modern demand and supply rule.
"AI-powered applications are the new normal–It has embarked on its sensational breakthrough by revolutionizing all facets of life and work"
In this blog, we will pen you down with the best AI apps of 2023!
Let's dive in!
What Are The Best AI Apps In The Market?
The thought process behind the selling of this digital service is simple. It is rethinking old working models with innovative real-time methods to digitally evolve and grow progressively.
AI apps have reshaped the industry and its height of competitiveness.
With everyone moving their framework to the cloud and upscaling themselves in the digital realm, it is important you keep updated knowledge on the "Best AI Apps of 2023".
Without further wait, allow me to pen you down through the highly-rated 15 Best AI Apps of 2023!
1. Siri - Digital Companion
As part of Apple's ecosystem, Siri is the voice AI assistant that is built into nearly every device.
This is one of the best AI apps powered as a personal assistant restricted upon iOS app development platforms.
It was one of the best AI apps using voice systems with the capability to interact swiftly with a human user.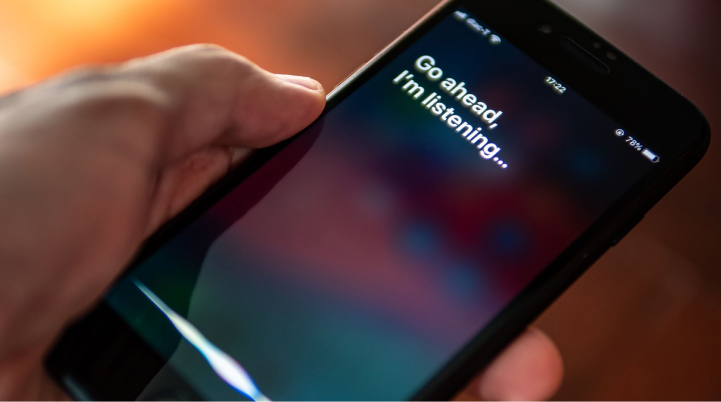 Utilizing its machine learning technology this AI app determines user suggestions, answers queries, and controls iOS-integrated devices.
It can be configured to speak and understand 20 languages and be available in over 30 countries.
Due to its incredible ability to mimic natural speech and respond to queries, it is one of the standard everyday use AI apps.
Keeping your life private and secure while controlling aspects of it.
Features
Has a universal wake word called "Hey Siri"!
All voice data is encrypted end-to-end.
Finds calendar appointments, and provides smart text suggestions
based on recent websites or news articles the user visited.
Available on iOS
2. Amazon Alexa - Customized Smart Solution
Amazon Alexa, commonly known as Alexa, is a major among the AI assistant apps that has made lives easier for many. All it needs is a suitable internet connection to begin delivering meaningful responses.
This app acquiring the best AI technology connects you to multiple third-party devices and works upon your command.
It does everything from playing your favorite song to controlling the lights in your house.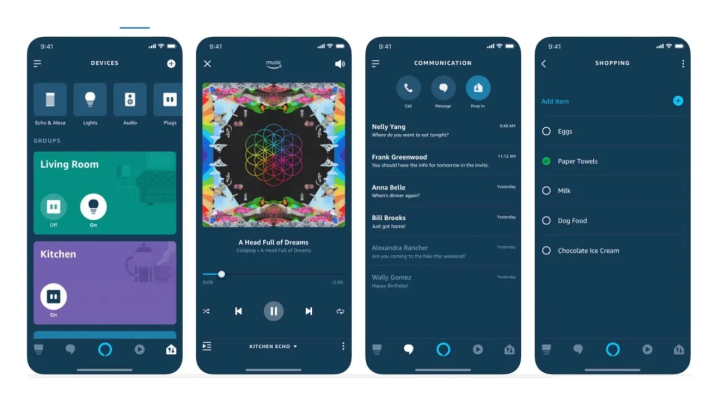 Alexa uses a combination of artificial intelligence and machine learning technologies. Natural language processing (NLP) converts speech into words, and sound.
It uses this technology to input and executes commands more smartly. Alexa has close integration with the Amazon Echo and Dot smart speakers.
The device records your voice and sends it over the Internet to Amazon's Alexa Voice Services. The recording is then decoded, providing the relevant output back to your device.
The company now uses its AZ1 Neural Edge processor. This reduces 20 times less power, doubles speech processing capacity, and reduces memory usage by 85%.
Features
Alexa features a smart home by connecting to your Smart lights, cameras, TVs, and thermostats and making several things happen with a single request.
Alexa allows you to connect with multiple people at once, hands-free.
Alexa makes shopping convenient for you. It helps you add your groceries to your cart and notify you of their nutritional info.
From opening up the camera for snapping a selfie to displaying your selection of slideshow, it does it all!
Alexa has a compilation of over 5,000 exciting games to play.
Alexa's multi-room music allows you to play music of your choice via apps such as Amazon Music, Apple Music, Spotify, SiriusXM, Pandora, and others.
3. ELSA - English Language Speech Assistant
Do you struggle with your daily word pronunciation? ELSA makes speaking English easy for every layman out there.
ELSA (English Language Speech Assistant) is the world's smartest English pronunciation app designed to help users improve their English pronunciation.
This fun, engaging app helps you speak confidently, fluently, and rightfully.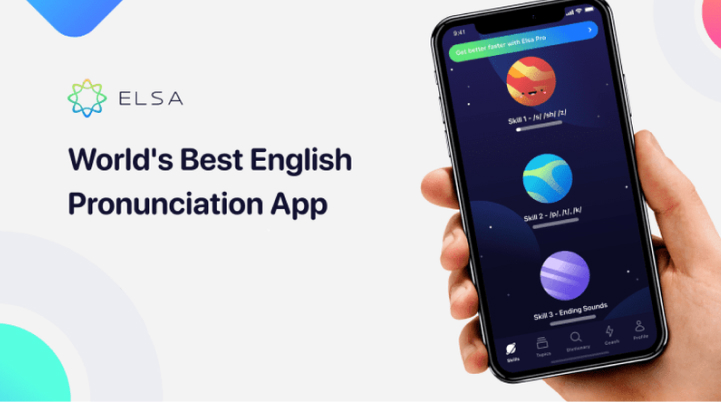 ELSA Speak uses speech technology and artificial intelligence (AI) to fluent non-native English speakers.
It is integrated with a microphone that listens to the user's voice and matches up what they said with the correct American English pronunciation.
ELSA Speak is a cross-platform app available on both Android and iOS. Making people's lives easier by empowering quick dialogue delivery for users. Furthermore, it highlights red, yellow, and green to showcase the performance of the user.
Features
Localized in nine languages and accessed by users across over 100 countries for learning English.
Real-time effective feedback
4. Cortana - Dedicated Management Support
Cortana is a digital AI assistant for Microsoft that is integrated to use the Bing search engine for its processes.
This AI-powered technology works on voice commands to help users accomplish their tasks.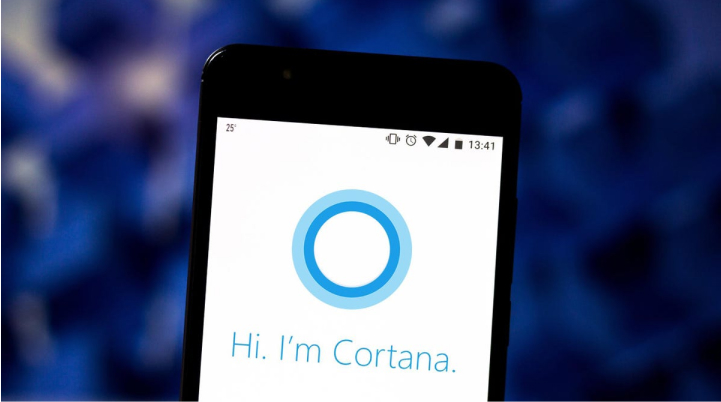 Cortana uses natural language that helps users get their variety of tasks done.Using the wake phrase, you can activate Cortana and manage to join a meeting, keep your schedule up to date, and much more.
It can integrate itself with 3rd party apps to help you achieve your desired actions.Its best AI feature is the chat-based UI allowing you to get answers to your typed or spoken commands.
Features
Open up a dictionary and find facts, definitions, and info from the encyclopedia upon your command.
Tracks your patterns and optimizes them according to user-centric behavior
Manages lists, creates notes, set reminders, reads your texts, and much more
Available on Microsoft

5. Socratic - AI Educational App
Socratic is one the most industry-leading best AI apps in the education niche by Google. This AI app targets users seeking educational insights on various subjects.
It combines the use of AI technology to provide answers in the form of educational resources like videos, definitions, Q&A, links, and more.
You will find both students and teachers present on this AI app engaging in the form of collaborative argumentation to find the optimal answer.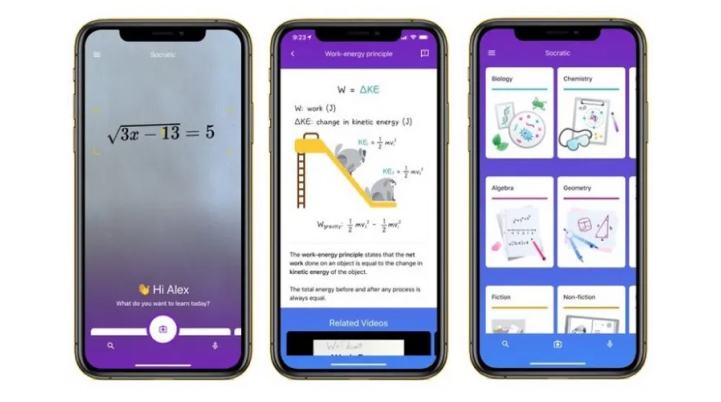 Socratic is an AI app integrated with sophisticated text recognition that decodes your question from an image format.
Secondly, it also allows you to type your question away in the app to find the correct solution. Using Socratic, students can find answers to their homework-related questions with extensive explanations.
This best AI app facilitates active participation from teachers and students and allows them to expand question-and-answer resources.
Features
More than 350,000 questions have already been answered, covering 21 topics and 21 subjects.
Socratic covers various subjects, such as math, English, history, geography, biology, and physics.
Socratic is a multilingual app that Supports a wide range of languages, including English, German, Spanish, French, Indonesian, and Portuguese.
6. Youper - AI Mental Health Support
Youper is one of the best AI apps that combine clinical effectiveness to promote better mental health in its users.
This is a behavior coaching digital assistant AI app. It is driven by the motive of making mental health care accessible to everyone through meaningful interaction.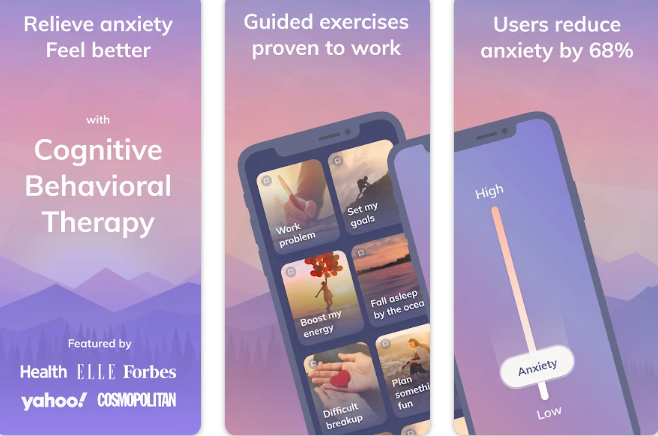 Youper helps you achieve your treatment goals by making you read your emotions and moods well.
It provides you with prompts to fill out and follow up on the factors that took their part in why you're feeling some sort of way.
Youper using its app's artificial intelligence allows users to determine, trace, and process their thoughts and sentiments.
This AI app engages the patient and makes them interact with their inner self amidst the stressful hustle.
Features
Calms up the users through professionally customized meditations.
Integrated with AI Chat-Bot to help you analyze your current feelings.
Mood Logs and Journal Logs to help you log in your gratitudes, Mood Logs,
Your 24/7 Emotional Health Assessment with a fully-fledged anxiety screening platform
Youper can have its visualization customized according to moods, country, gender, and occupation.
7. Replika - Personalized AI Friend
Replika is one of the best AI apps providing AI assistance as your bot Companion.
This AI app basically uses a digital chatbot to socialize with users mimicking all human-centric behaviors.It provides you with your personalized AI friend that is available to talk to you 24/7.
Replicating natural human interaction, Replika allows you to make conversation with an AI-powered robot. As a leader amidst the AI Apps it predicts the patterns of your responses and customizes the conversation accordingly.
Features
Replika can make conversations on everything from movies, travel, and art
From a friend, a partner, or a mentor, it makes you experience diverse relationships.
Replika pro will introduce you to Video calls, voice calls, AR feature, Coaching tabs, and much more.
8. Robin - AI Map Assistance For Android
Robin is your in-car AI assistant driven to make your ride secure and satisfying.Unlike other AI Apps, this app is one the best ai apps when you are on the road.
It helps you navigate, play your favorite audio, top podcasts, and much more.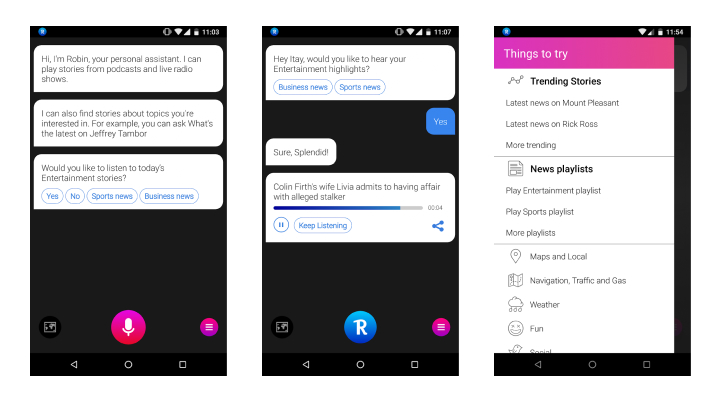 Robin is integrated with a quality Android app development framework that has made it so user-friendly. This AI app adapts to user-centric behaviors and follows up with the patterns.
With its excellent 3D navigation, weather updates, and more, it makes your ride much more informative and fun.
Features
Simply wave "hello" twice or brush your device's top to activate.

To choose the perfect route amidst high traffic, finds restaurants and movie showings,

Quick map views, Weather updates, nearest gas station, Parking, and much more

Traveling companion to talk about interests, share jokes, and lighten up your mood on the ride.
9. Hound - Natural Voice AI Assistance
Hound is an AI app that is voice-powered to be your digital assistant.
It answers queries based questions and acts according to user-generated commands.
This app provides you with the fastest and most accurate results with a single voice command.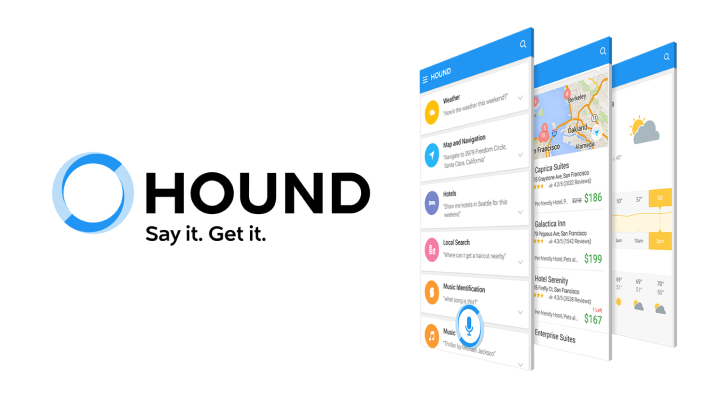 Hound is a native platform application using Houndify for Speech Recognition and Natural Language Processing.
This AI app is built upon a very smart-looking UI/UX design that makes it stand out.
The hound app is developed to provide you with an AI assistant to make your tasks easier without lifting a finger.
It is integrated to mimic human-like behavior and provide a very personal experience. If the answer to your query is unavailable or too complex, it provides you with an alternative solution.
Features
Works and activates upon its universal wake word "Ok, HOUND."
Integrated with a mobile application development that is empowered to work with lightning-fast speed and user-friendliness.
Forecasts the weather, makes calculations, manages your finances and books your next flight, provides your insights on the stock market, and much more!
10. Face App - AI Selfie Editing App
Face App is an AI app that creates photorealistic portraits from selfies with just a click. It offers Instagram-worthy edits to create your new and inclusive look for free.
This super fun and interesting AI Face App is currently available for Android and iOS users.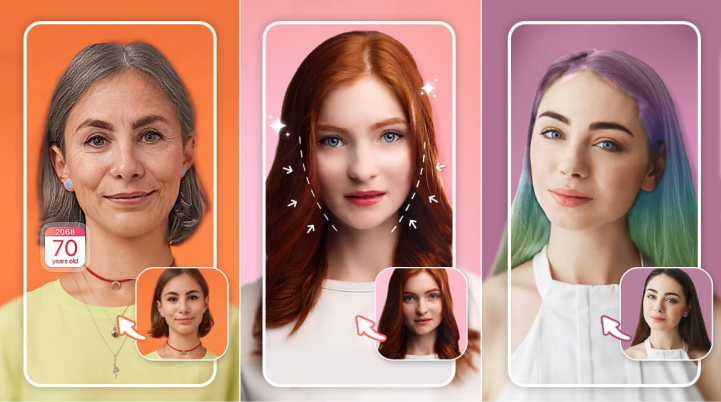 Face App uses the best AI technology to offer a range of fun edits and filters. This is done through the Generative Adversarial Network, a machine learning framework.
This framework trains its program to generate realistic images per the specific categories. As a result, the user's photo gets given the desired filter category based on the features the user uploads.
Features
It lets you see yourself with drastic changes by effects that make you look older and younger.
Add hairstyles of your choice, change your background and make you customize your facial features.
It changes your gender and removes wrinkles, acne/blemishes, and much more.
11. eBay - AI-Powered Online Auction and Shopping App
eBay is a market-disrupting example of a leading mobile app development that is AI-powered.
This app is your tangible gateway to the e-commerce world of buying and selling goods. It has everything from trading cars to shopping for upgrading your closet.
eBay uses the best artificial intelligence technology to help optimize the shopper's experience by finding similar items.
It uses computer vision, recommendation systems, machine translation, and natural language processing to make the user's experience as frictionless as possible
eBay is a scalable AI cross-platform app that provides human-level competency in the experience.
Features
Simply snap a photo of the item you like and search right away for the product.
Provides sellers with more opportunities to display their products by snipping images, semi-automating product placement, and other features.
Make your own wish list to keep things noted, with a choice to make it public or private.
Share your listings on social media or send them to a friend, and filter out irrelevant information such as price range, buying format, number of bids, and the currency of sale, etc.
12. Google Assistant - Your Flexible Automated Solution
Google Assistant is your AI assistant in an app. It is your cross-platform app that can control your phone and align your tasks with voice recognition.
It empowers natural conversation to boost rich consumer-facing assistance. It can recognize voice differences and tailor responses accordingly.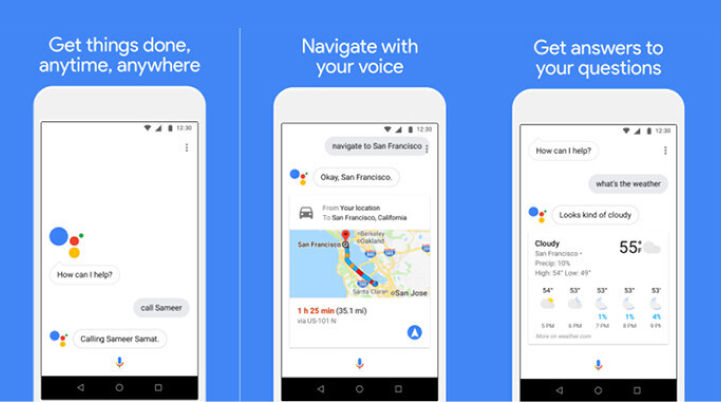 Features
Has its activation phrase of "OK Google"
Controls your devices and fosters a smart home
From restaurant reservations to directions, weather, and news finds and connects you to everything online.
Control your music, Read your notifications to you, send messages, run timers and reminders
Play content on your Chromecast or other compatible devices
13. Swiftkey Keyboard - Intelligent Keyboard Assistant
This is one of the best AI apps that predict, comprehend, and suggest words while you type. It is integrated with an AI-based keyboard helping you write faster, better, and quicker.
Swiftkey Keyboard works by gaining familiarity with your typing style. It helps to personalize your experience by typing, sending emojis, stickers, and much more.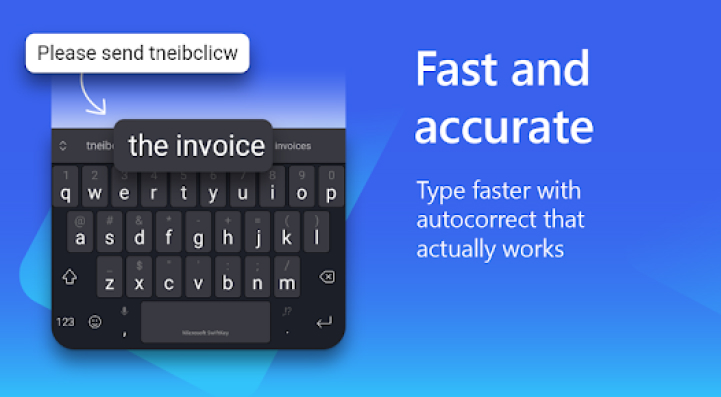 Features
Matches your unique way of typing with diverse language support
Predicts and suggests words by analyzing what you use often
An integrated clipboard and gesture-based keyboard for convenience.
14. Siftr Magic - AI-Powered Cleaner Application
Siftr Magic is a Magic Cleaner AI app that promises to clean junk in your phone. It is one of the best AI apps that is built for those with an excessive amount of data on their phone.
Siftr Magic is among the few best AI apps that use AI to scan the phone to free up memory space.
Features
Scans of photo galleries and videos from messenger apps like Whatsapp, Hike, Snapchat, and much more.
Available in multiple languages such as English, Malay, Spanish, Chinese, French, Portuguese, German, and Italian.
Detects and deletes to help you run your phone smoothly.

15. Hopper - AI Travelling Companion
Hopper is hands-down one of the highest-rated AI apps in the market. This app uses its network to find you flights, hotels, and rental cars at a cheap rate. With an accuracy of 95%, it monitors and accommodates you with the lowest prices in the market. Hopper is another one of your ai assistant apps but niche-oriented in saving you money and hassle for traveling.
Features
Your hassle-free, reliable traveling guide
Hopper keeps a 24/7 monitoring approach to sort you with the best price changes.
Analyses and structures the data of 15 billion flight price quotes per day. Earn free rewards
Conclusion
The fiercely progressive acceleration of AI apps has made it appear as an integral part of our routine. From video streaming to modern appliances in our day-to-day use, AI is everywhere.
The mobile application market has become crowded to the point where it's overwhelming to compete. Without integrating the best AI features in your apps, you are likely to get unnoticed. In order to lead the market, you need to acquire the best AI and ML-based resources to help you build your dream AI app.
Without further wait, connect with us to hire a dedicated team of professional Full-stack developers, Mobile app developers, and much more to get you started
FAQs
What are AI Applications?
AI apps are integrated with artificial intelligence that is robust to stimulating human-centric behavior. It acquires vast volumes of data to make effective solutions that are combined using Machine Learning techniques, Deep Learning, image recognition, etc.
What is the best artificial intelligence app for android?
The market of leading android app development is crowded; however, only a few make it a front-runner. According to the number of users and utility, Google Assistant is ahead in the sensation. This AI app automates your operation while streamlining your day-to-day task upon your voice commands.
How much does it cost to make an AI app?
Your AI app's cost will vary depending upon the number of features, resources, and type of technologies you are integrating into it. Moreover, the cost is dependent upon the location and the agency you are acquiring the service from as well. At an estimate, it will cost you $40,000 to $180,000.